Posted by KING Connect on 2nd May 2023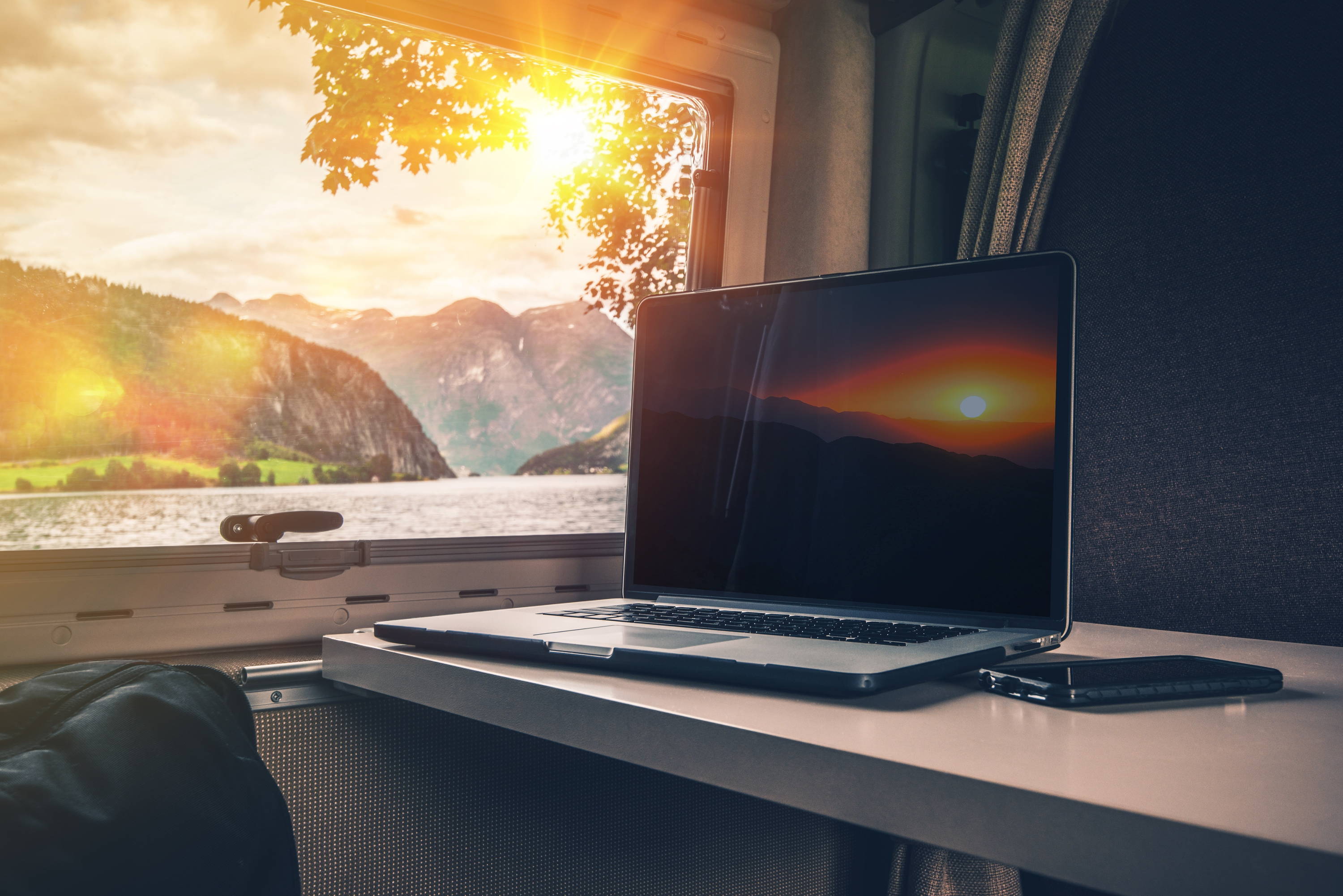 Wi-fi extenders are designed to help people extend and boost the signal of an existing wireless internet source that's either too far away or overcrowded to get a strong, usable internet signal from. These antennas work by taking an existing wifi signal (coming from a campground, coffee shop, or other public signal source point), and repeating those signals on a private, password-protected VPN network that has enhanced power and signal strength - allowing you to make weak wifi signals usable.
Wi-fi antennas are especially useful while on the road in an RV traveling the country - more often than not it is impossible to acquire a long-range wifi signal from a campground wireless access point. Even when the campground boasts "free wifi", the signal strength is weak and too far away to access from where you are parked. Additionally, if you are one who works remote from on the road, using a public wifi source can be risky if not secured by a private VPN network (automatically built in to KING Wifi antennas).
The most common complaint we hear from avid RVers is that their campground "supposedly has free wifi" but they aren't able to access it because the signals are too weak, they are parked too far away from the campground office, or there are too many people attempting to use it. That's where our KING antennas come into play.
The KING suite of internet antennas can be used in many different ways to achieve optimum internet connection, but they work best for those who love to travel across the country on the open road.
Choosing your WiFi Antenna
KING has three different options for Wi Fi range extenders and boosters, depending on how much strength and distance you need. The first option is our basic WiFiMax router and range extender, which can be used on its own, or bundled with one of our outside antennas that mount on the roof of your RV, trailer, pole barn or other structure. The WiFiMax is simply plugged in wherever you are, and it works by taking WiFi signals and repeating them using dual-band technology (both 2.4 GHz AND 5 GHz), so you can connect on your own secure, private, password-protected network. The WiFiMax has an easy setup - simply plug it in and set up the app, no installation required. If you don't typically have a super long distance between where you are and the WiFi source, this WiFi repeater may be all you need.
If you're looking to add a little more long-range distance and strength and faster internet speed, and will be using the internet inside an RV, trailer, or other form of building, then adding an outdoor antenna will help you achieve maximum signal power and speed by picking up distant signals from a wifi signal source. The outdoor antenna gets installed on the roof of your RV or outbuilding, then gets connected through the roof via a coaxial cable to the WiFiMax inside the building, which then broadcasts the signal throughout the room. The KING Falcon is the most powerful external WiFi antenna, using automatic directional wifi strength to automatically track and locate usable WiFi signals from up to a mile away. If you're looking for an antenna a little more powerful than the WiFiMax, but still a great value at a competitive price, try our KING Swift Omnidirectional WiFi antenna which is also installed on the roof of your RV, and picks up Wi-Fi signals from every direction, up to a half-mile away from where you are parked, and giving you access to the best wifi signal and internet connection possible.
KING WiFi Antenna Options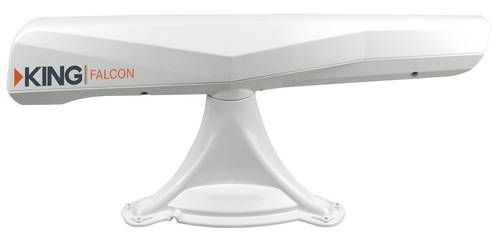 This powerful RV WiFi booster antenna actively scans for networks and connects with signals that are further away. You can control the booster with the KING WiFi app that is accessible from your phone.
The KING Falcon is an outdoor antenna that picks up signals from up to a mile away (depending on landscape and other factors), then transmits those signals boosted inside the coach to the WiFiMax router on a private, VPN protected network. The most powerful RV internet antenna solution on the market today, the KING Falcon allows you the freedom to use the internet from your favorite campsite!
10x more powerful antenna than the competition
High-gain, long-range, directional Wi-Fi antenna
Fastest speeds for streaming - the KING Falcon is dual-band and extends 2.4GHz networks, your resource for the best range, while still allowing the KING WiFiMax to use its 5GHz network.
Easy to use - automatically scans and aims
Single coax connection between the KING Falcon and the KING WiFiMax
Free KING WiFi app
Connect ALL your devices phones, tablets, laptops, smart TVs, appliances, Wi-Fi enabled speakers, and more!
Customizable Wi-Fi name and password for a secure connection
Get the best WiFi signal possible with the most powerful Wi Fi extender on the market
The KING KF1000 or KF10001 Falcon comes in white and black
This powerful Wi Fi system kit comes with a KING WiFiMax router and range extender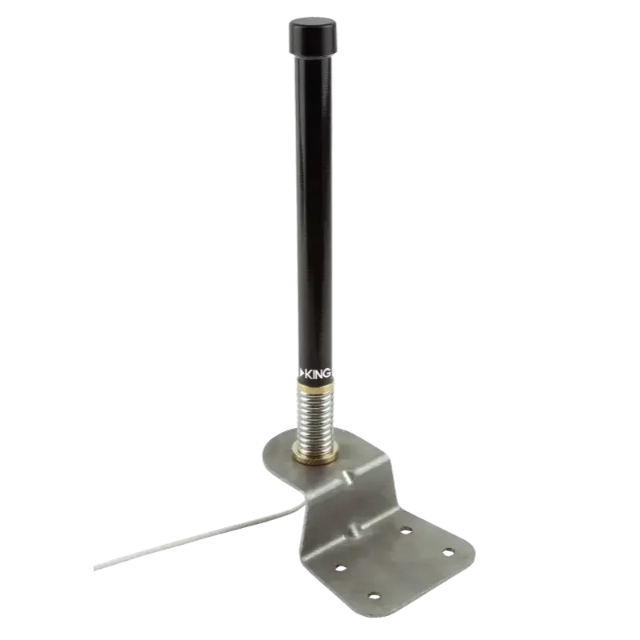 Roof-mounted with spring loaded base for impact durability
Multi-directional (omni directional) signal acquisition, so can pick up signals in any direction
Antenna extends 2.4GHz for the best range, plus 5.8 GHz with router for fastest speeds
Single coax connection between KING Swift and KING WiFiMax
Customizable Wi-Fi name and password for a secure connection
Connect all your wireless devices: phones, tablets, laptops, smart TVs, appliances, WiFi enabled speakers, and more.
This powerful Wi Fi system kit comes with a KING WiFiMax router and range extender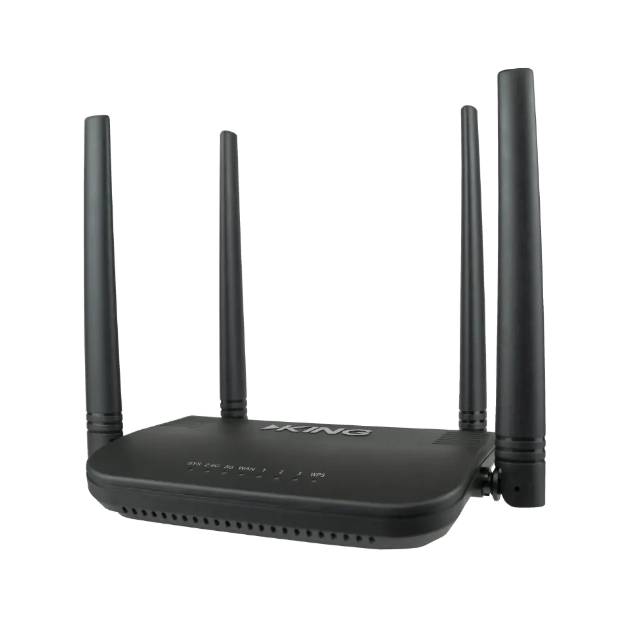 The KING WiFiMax creates your own personal, private, and secure WiFi network, just like you have in your home. When you are in range of an available WiFi source, you simply configure the WiFiMax to connect to that network. Then, it extends the internet access from that Wi-Fi source to your own private network so you can connect all your devices. While it is our most basic RV wi-fi solution available, it is convenient and does not require any installation - simply plug and play!
Intuitive, one-minute easy setup process
2.4 and 5.8 GHz dual-band Wi-Fi for super fast speeds
Customizable WiFi name and password for a secure connection
No installation necessary - simply plug in router and setup via a phone, laptop, or any other Wi-Fi enabled device
Compact design and easy setup / easy to install
Four antennas with beamforming technologies for fastest speeds
Connect all your devices: phones, tablets, laptops, smart TVs, appliances, Wi-Fi enabled speakers, and more.
Whether you are looking to obtain long range wifi from an RV campsite or in your own backyard, KING has the solution for you. To check out our full product lineup and learn more about what stronger wifi can do for you, click here (link to kingconnect.com/wifi)
There are 3 types of Wifi antenna extender systems:
This type of coverage is as basic as it gets when talking about indoor wifi. Because of the average size of an RV, indoor coverage is not an issue with the type of antennas we sell. There will be plenty of indoor signal strength within your RV.
Point to Point (building to building)
Otherwise known as building to building, point-to-point wifi systems allow you to take a wifi signal from one building and access it from another, up to a mile away. Wifi antennas such as the KING Falcon or Swift allow you to turn basic wifi signals from one building into long range wifi coverage that you can use from an RV, pole barn, detached garage, and more. Point-to-point wifi systems help bridge wireless internet between two buildings.
Pros
Point-to-point wifi systems, such as the KING wifi suite of products, are great for detached barns, garages, workshops, RVs, travel trailers, horse trailers, ice houses, and more. Allows you to connect multiple devices, so the whole family can use the internet.
An indoor-to-outdoor WiFi system can take a wireless internet signal and reach it outside for outdoor use. Many point-to-point systems, such as the KING wifi antennas, also double as indoor-to-outdoor systems, because they can also be used outdoors, giving you coverage wherever you are.
Pros
These systems allow you to access the internet from outside - backyard, farm, pool, and more. No need to spend money on a second internet connection when you can make the primary source usable from further away and bypass building materials.
Cons
It works best with a clear line of sight to the antenna.